Should Confederate Statues be Demolished with a Bulldozer or a Wrecking Ball?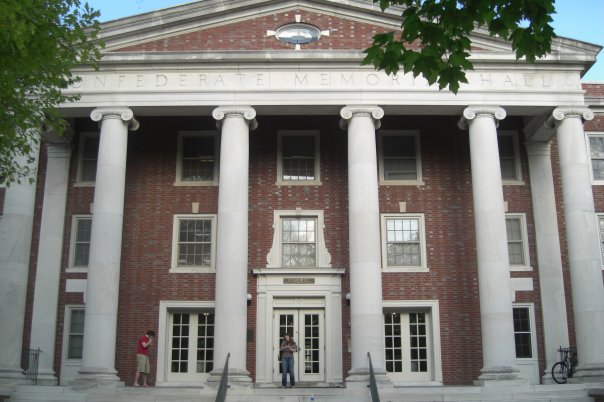 I recently came across this interesting debate while reading my second favorite Vanderbilt news source, the Hustler. The article (found here), posed an interesting question: Should Confederate statues be demolished with a bulldozer or a wrecking ball? Admittedly, I only had the time to read the title, but I still feel as though I should give my two cents on the matter. I must mention that my opinions and beliefs expressed in this article do not necessarily represent the beliefs of the Slant or of other Slant staff members.
As for the question at hand, I would use a bulldozer, but that's also a grossly oversimplified answer. Removing a statue takes lots of high grade industrial equipment and manpower. The removal of a statue can be broken down into two parts: the lifting of the statue itself and the removal of the base of the statue. In general, to lift a statue off its base, one would use an excavator. You want to tie up the statue steadily and attach it to the hook of an excavator. Of course you're gonna need some sort of hoist hook or lifting hook to attach to the excavator, and a steel hook would be your best bet. That way, you can tie up the statue and hook it all up into one sturdy place.
For tying it up, I am of the belief that you should use nylon slings. A 4-leg-bridle should be reliable and as for the nylon itself, I recommend either 22 or 24mm. Anything less and you're playing with fire. Obviously, one leg of the bridle should be tied around the statue's center of gravity. The other three legs should be put any place where the statue can be grabbed and lifted easily. For example, most confederate statues often have a man riding a horse, so you should probably use one strap for the center of gravity, two for under the horse's torso, and one to tie up the slave he's whipping. It's also important to have some sort of buffer in between the nylon straps and the statue. Something like an old rag should do the trick.
If you're looking for good deals on nylon slings and all of these products, look no further than your local Home Depot. Home Depot is the one-stop shop for everything from getting that dorm room set up to removing a memorial dedicated to a man who vehemently hated black people and regularly called them the most offensive word in the history of words. These products can be bought at Home Depot, or shop online at https://www.homedepot.com. And from now until the end of the year, if you use the promo code SLANT, you'll get 15% off all purchases of $100 or more. Take it from me, Home Depot is the only place I go to for all of my construction needs. More saving. More doing. That's the power of The Home Depot.
Well we've gotten past the hard part, but now comes the part that really comes down to brute force. The base of a statue can be up to 7 or 8 tons depending on what material is used. That's almost as heavy as the weight of your white guilt from knowing that your ancestors used to run a plantation. Yikes! Now this is where a bulldozer comes into play. Over time the base will start becoming one with the ground, and the only way to unhinge it is to push it off with a bulldozer. After giving it a small push, you're going to need to lift it up to put it on back of the flatbed truck. For heavy lifting like this, you should use a hi-lift jack. But don't be confused, this ain't your father's forklift. No sir. Hi-lift jacks are designed for heavy lifting like this job requires. As soon as you get it up in the air, you can slide it up a ramp to the flatbed and drive off. And there you have it. A simple, easy way to remove your confederate statue.
Look out for next week's article where I discuss whether you should use dynamite or a heavy duty chisel to take down Trump's border wall.